Tracy Breen makes his living as a Wild Game Dinner Speaker and outdoor writer. Each year Tracy travels the country speaking at Beast Feasts, Christian Bowhunters of America events, men retreats, Farms and Hunters Feeding The Hungry banquets, Christian Sportsman Fellowship dinners, fundraisers and church events telling his unique life story and sharing hunting techniques and the gospel. In the past several years, he has been blessed to hunt, fish and speak all over North America.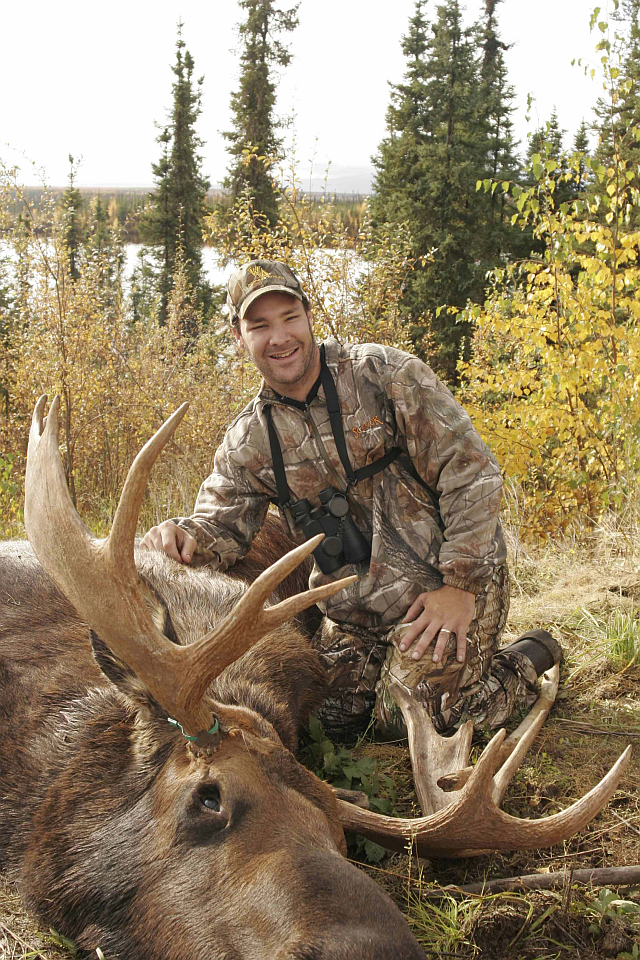 In addition to being a diehard outdoorsman, Tracy has cerebral palsy; a disease that affects much of his right side. When speaking, he often discusses the struggles and disappointments he has had to deal with while growing up with health problems. He shares how God has used his life and opened many doors that have brought him to where he is today.
All things are possible through Christ and if you "Delight yourself in the Lord; he will give you the desires of your heart." (Psalm 37:4) This is what he hopes everyone who attends his events will believe when they leave. Yes, Tracy gets to hunt all over. Yes, he can teach people how to be a better hunter. However, more importantly, Christ has opened all of the doors and has allowed Tracy to overcome the struggles that could have destroyed him if it weren't for Christ.
Tracy currently writes for magazines including Outdoor Life,Bowhunter, Bowhunting World and Petersen Bowhunting. Tracy also works with a variety of companies in the archery industry such as Mathews Archery, Mission Archery, Wilderness Athlete, Pine Ridge Archery and Schaffer Performance Archery.
If your church is currently looking for a speaker, please drop Tracy an e-mail or give him a call. Visit his testimonials page to find out what pastors and hunters are saying about Tracy's presentation.
"It was awesome, and I thank you for coming and speaking with us. It is amazing how God can use an event like a wild game dinner to turn 20 hearts towards him. It is also awesome that God could bring you in to our church and give your testimony to so many people and use those words to his glory. Thanks again; we were thankful for your presentation. I hope you can reach many others with the gospel, and I hope you have a great hunting season this year."

John Morlan
Hi, Mr. Breen. I was at the game dinner tonight in stow. I wanted to tell you that I really enjoyed your speech and that it hit home. I have been going through a lot, taking care of my four kids. I asked myself and God last night why is this so so hard and I wasn't supposed to go tonight to the dinner but my Dad had a extra ticket and said why don't you come since my son was going anyway. When I heard your message, I got my answer. God doesn't give you more than you can handle. I have heard it before but tonight it hit home. Yes, God works in strange ways. I wanted to get your book but we had to get home. I'll look for it in book stores but most of all, thank you and hope to hear you again.
Raymond Tedrow
Hi Tracy,
I didn't get a chance to talk to you after the show and you were pretty busy but I just wanted to let you know that you shared an awesome story and you are a motivating person. The obstacles you have tackled and overcome are truly amazing. I have gone to the dinner before and every time it is good. This year, your life story really humbled me and made me realize how much I take things for granted sometimes. The biggest thing I took from your show was not to judge a book by its cover. I have always looked at Matthews as being over priced and being a somewhat of a rip-off. I always thought the guys making these bows are really greedy and are in it for the money because they have such expensive products. However, insert foot in mouth after hearing you talking about why they came out with the Mission line and where proceeds go and then what they have done with the Lost Camo line. I took more away from that game dinner than I ever thought I would. I grew up in church and am a Christian today, but sometimes you need to hear something like that to kick you in the butt and motivate you to strengthen your faith in God and make you think about all the things we actually are blessed with. I just wanted to thank you for taking time to come share your story and some of the hunting tips and techniques you use.
Dear Tracy,
Just wanted to let you know how much I appreciated your presentation at our 19th annual Wildgame dinner in Roscommon, Michigan. Your message was inspiring, your humor was enjoyable, the information presented practical and the presentation of the gospel of Jesus Christ was clear. Many hearts were touched that night including mine. I would recommend you to any church or organization looking to make a difference in their community. Thank you for coming,
In Christ's Love,
Michael Ritchie D.C.
Outdoor Ministry Director,
Roscommon Baptist Church.
Tracy tells inspiring stories while delivering a message about the faithfulness and goodness of God in all of our difficulties. In these stories, he communicates the message of God's saving grace and invites all to accept the gift of eternal life available because of Christ's work on the cross.
Ken Reeder
CSF National Director